Our Shangri-la is Historic yet Modern
Originally built in 1907, it is designed for comfort in all seasons and decor evokes nostalgia of the Adirondacks. Serenity and peace permeate the atmosphere.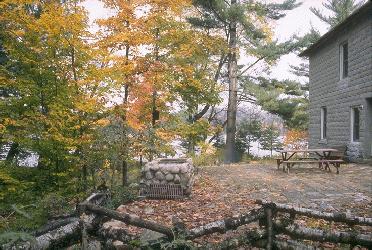 Our Shangri-la lets you make the choice:
Cook outdoors on the huge cobblestone grill or in the modern kitchen.
Enjoy your food on the spacious patio or indoors in the large dining room over looking the lake.

Spend the day basking on the beach or enjoy the view the lake from seven of the lodge's rooms.
In fall, winter or spring relax in the glow of one of two back to back fireplaces or simply enjoy the convenience of modern forced air heat.
The lodge offers the additional amenities of a complete kitchen, modern bedrooms, a water supply of unrivaled quality, and a fully automatic emergency electrical power system.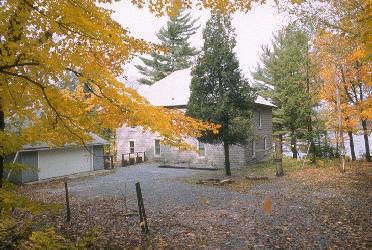 Just a few steps from the lodge stands a fully insulated spacious garage for your use.